Ah good to see the Blogsphere is still working are on tons of cool projects. I've been extremely busy these last two weeks, but things are slowly cooling down again. So time to get some painting sorted again, though it has been a while. So to get started again I'm helping out a new member over at the Astronomican forum with some testminis for his Nids horde:
The picture has terrible lighting, so better pics coming somewhere tomorrow!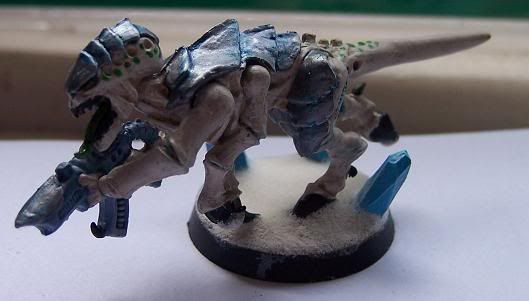 Originally the guy wanted to try out some metallic, turquoise carapce, but in his last couple of message he really focused on a more snowbound theme with his Nids having been frozen and their carapace taking on the colour of the ice. So I started out giving that whole idea a shot first, there's always plenty of time to try out different schemes afterwards. So here's what I did and why:
Skin:
- graveyard earth basecoat
- overbrush of 50/50 graveyard earth/bleached bone
- highlight with 50/50 bleached bone and skull white
- extreme highlight with 75/25 skull white and bleach bone (thin your paints, otherwise this could start to make things look very thick)
- some minor washing using watered down blue ink in the joints and vent areas
Carapace:
- basecoat of 50/50 shadow grey and boltgun metal
- highlight of 50/50 mithril silver and shadow grey
- extreme highlight with 40/40/20 mithril silver, shadow grey and skull white (watch out with this mix, too much white and it will quickly loose its metallic shine)
- several glazes using watered down blue ink, making certain that the deeper areas really get some blue shine to them
Talons/teeth:
- just basic black with a couple of successively lighter dark grey highlights to add some contrast to the otherwise very bright colourscheme
Markings:
- the first experiment using greenish colours on the normal body made any contrast disappear on the mini
- so instead I opted to add green touches on a more contrasting background (the whitish skin), making the eyes, tongue and markings goblins green with a couple of highlights and some green ink to add depth
Fleshborer:
- basecoat of shadow grey (yes, I really do love the colour) followed by a highlight of 50/50 shadow grey and skull white
- finished off with some small touches/highlights using 75/25 skulls white and shadow grey
Base/basing:
- to emphasize the ice nature of the surrounding I, once again, added some crystals
- these were painted with ice blue, afterwhich the edges were given a very thin highlight of 50/50 ice blue and skull white
- to finish it off a very watered down wash of blue ink was applied
- I deliberately went for a brighter blue to add some subtle contrast with the metallic carapce, though I think making the crystals nearly the same colour could also work out
And that does it for the first, quick 'n dirty test mini, more to come very soon I am certain!